A field management software solution. YourRadar offers commercial and residential service businesses an all-in-one solution to automate their business processes. Billing, dispatching, and scheduling can all be done more efficiently through YourRadar.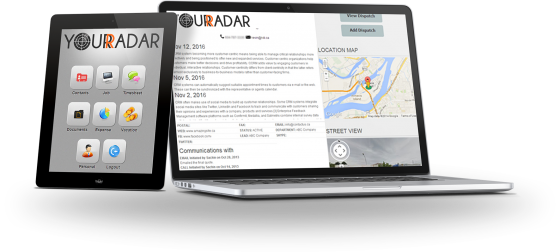 Works for all Types of Companies
Use YourRadar for virtually any Trade Service Company; especially those dealing with a mobile workforce. Our different pricing packages and system configurations work perfectly for all types of businesses.
Order Scheduling and Task Assignment/Reminders
Avoid missed appointments
Straightforward and easy to use scheduling module
Staff can effectively manage their own availability
Display client bookings, vacations, and days off
No more overbooking
No more playing phone tag
Quickly organize and book appointments on a single platform
Visual presentation of total quotes vs. total jobs of the day
Boost employee efficiency
Create task lists & reminder prompts to finish tasks
Virtually remind other employees of their duties to keep everyone at work accountable
Set employee goals instead of micromanaging
Dispatch
A flexible system customed to your company's needs
A drag and drop feature that schedules jobs onto a calendar
Ability to classify work orders into "buckets" that you name, i.e. by job or priority
Classifies employees skills so you do not send the incorrect employee to a job
Colour codes categories to your preference
Quick Estimate and Lead Tracking
Manage all your contacts, clients, vendors, and suppliers
Reduce time searching emails, phone numbers, and names
Provide employees with essential contact info when they need it
Add notes to contact to ensure sufficient customer knowledge
Allow staff focus on customer service and generating billable hours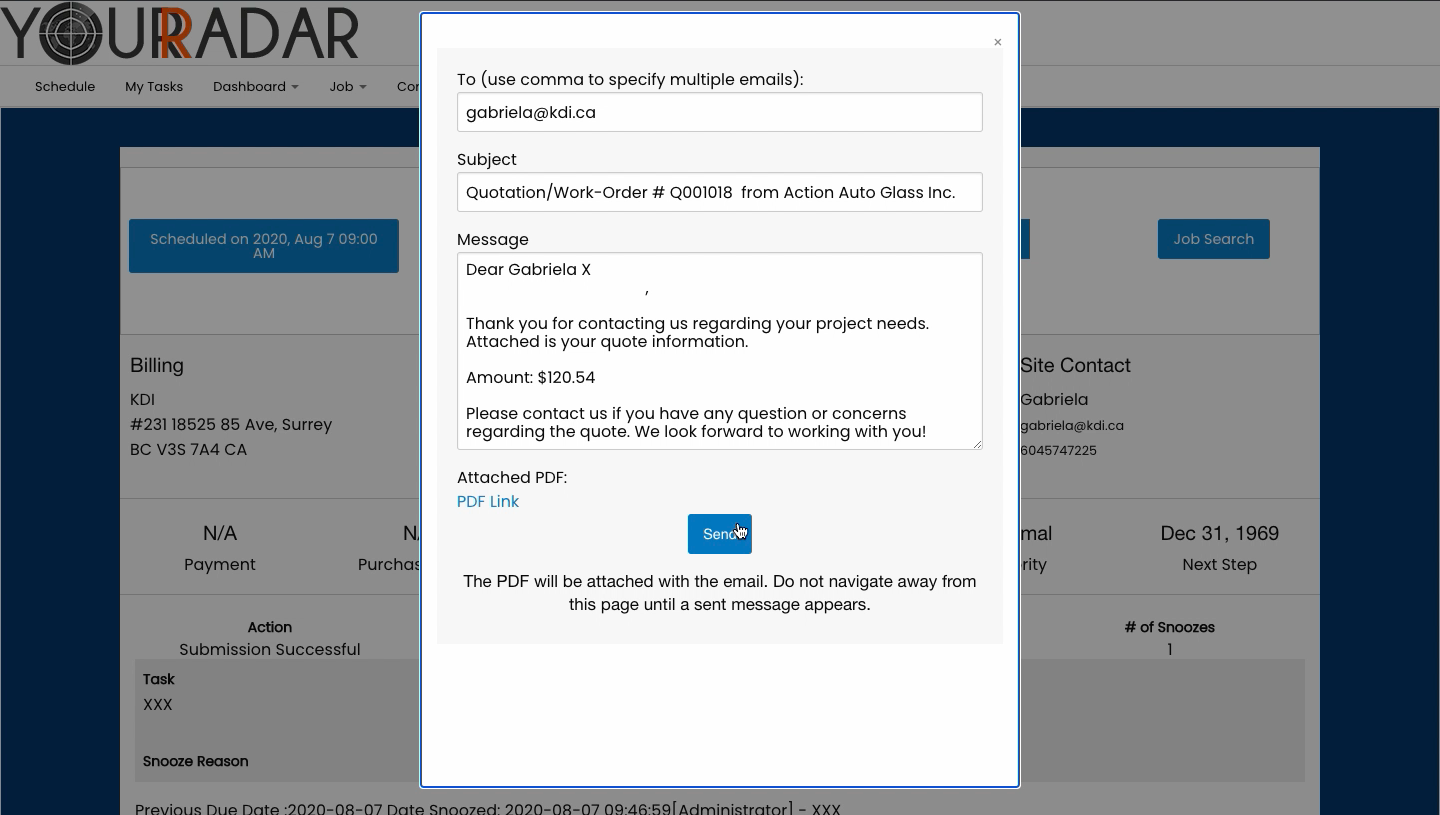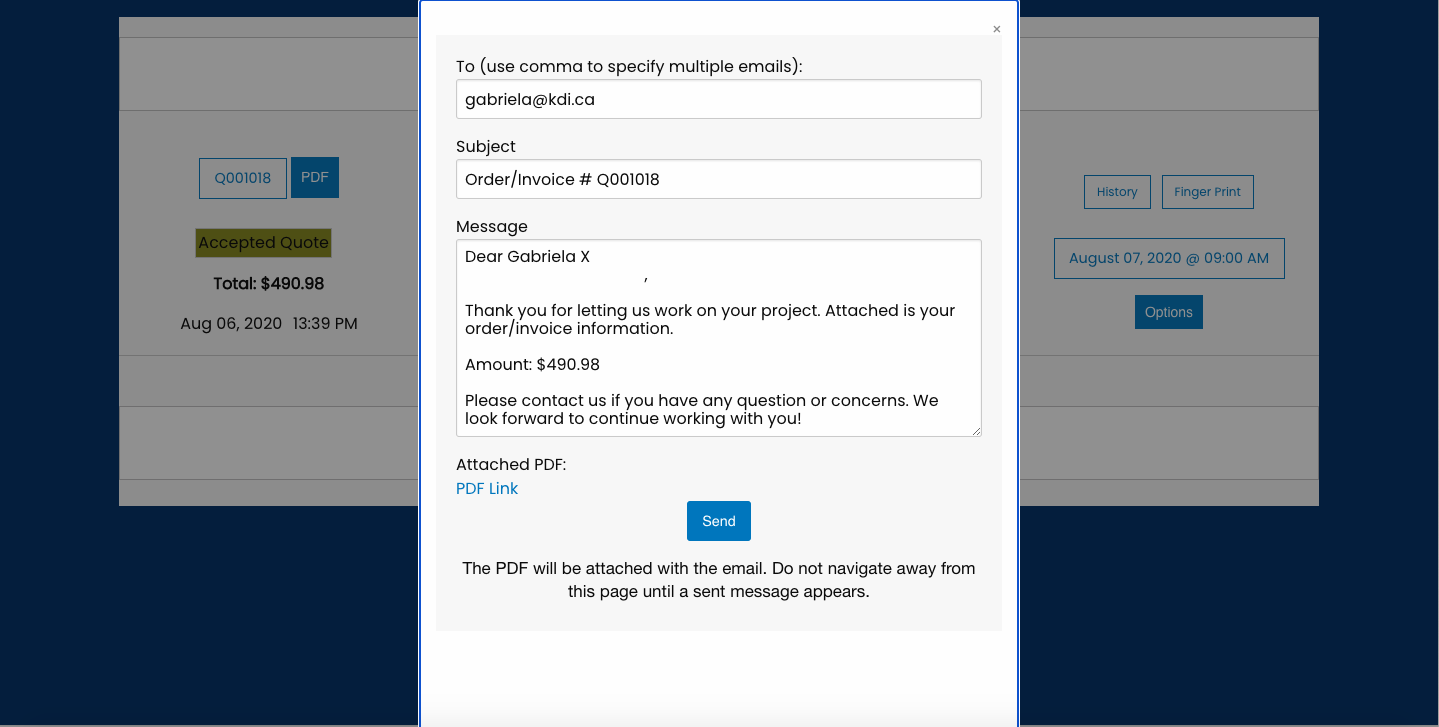 Highly Flexible Quotation, Work Order and Invoice Entry System
Increase productivity with an easy-to-use and flexible entry system
Create a quote or work order in five minutes or less
Equip on-the-field technicians to handle quick estimates and work orders
Option to select pre-defined equipment, shapes and, or dimensions
Able to add images and other material related to a quotes, work orders or invoices
Extensive Search Capability
Use an internal search engine to find quotes/work orders/invoices in seconds
Quickly search the entire integrated system
Avoid employees losing or misplacing documents
Eliminate booking mistakes by automatically finding active work orders before creating new ones
Save time by efficiently searching through relevant information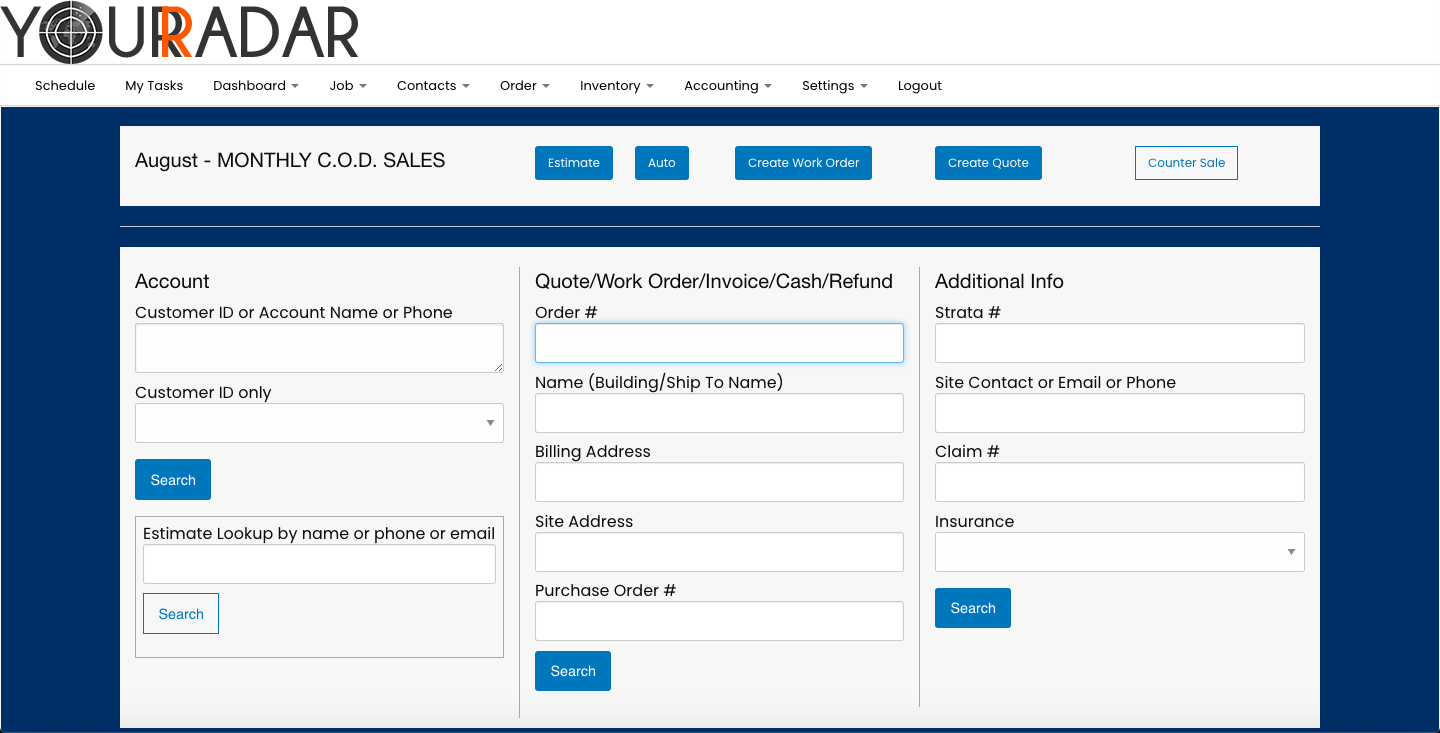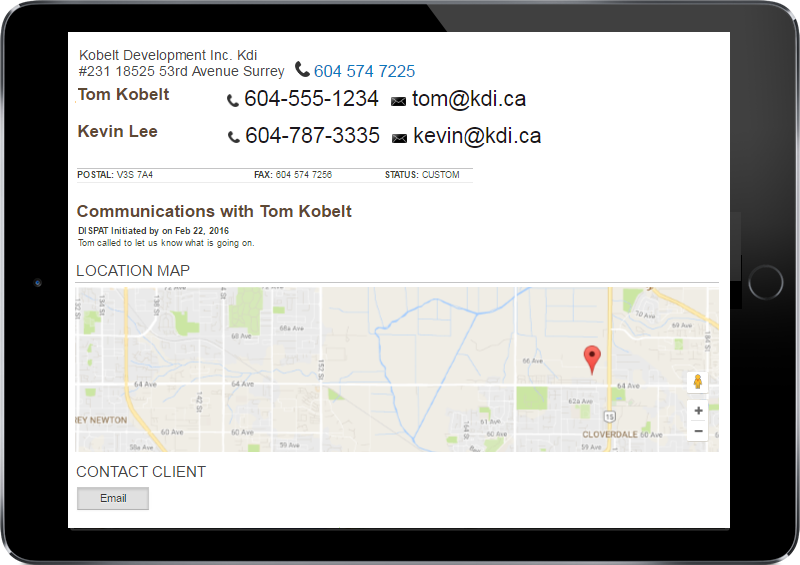 Robust Customer Information Tracking
Make customer profiles to improve personability
Elaborate on customer profiles with a Notes section
Deliver consistent service and fast-track problem resolution
Use autofill and autosuggest fields on returning customers
Improve billing accuracy and timely collection
Visual Representation of Quotes or Work Orders Life Cycle
Provide staff with a visual representation of customer profiles to view contact information, notes and job information
Provide a visual indicator of a work orders life cycle
Track quoting until a work order is created
Track work orders from beginning to end
No more jobs falling through the cracks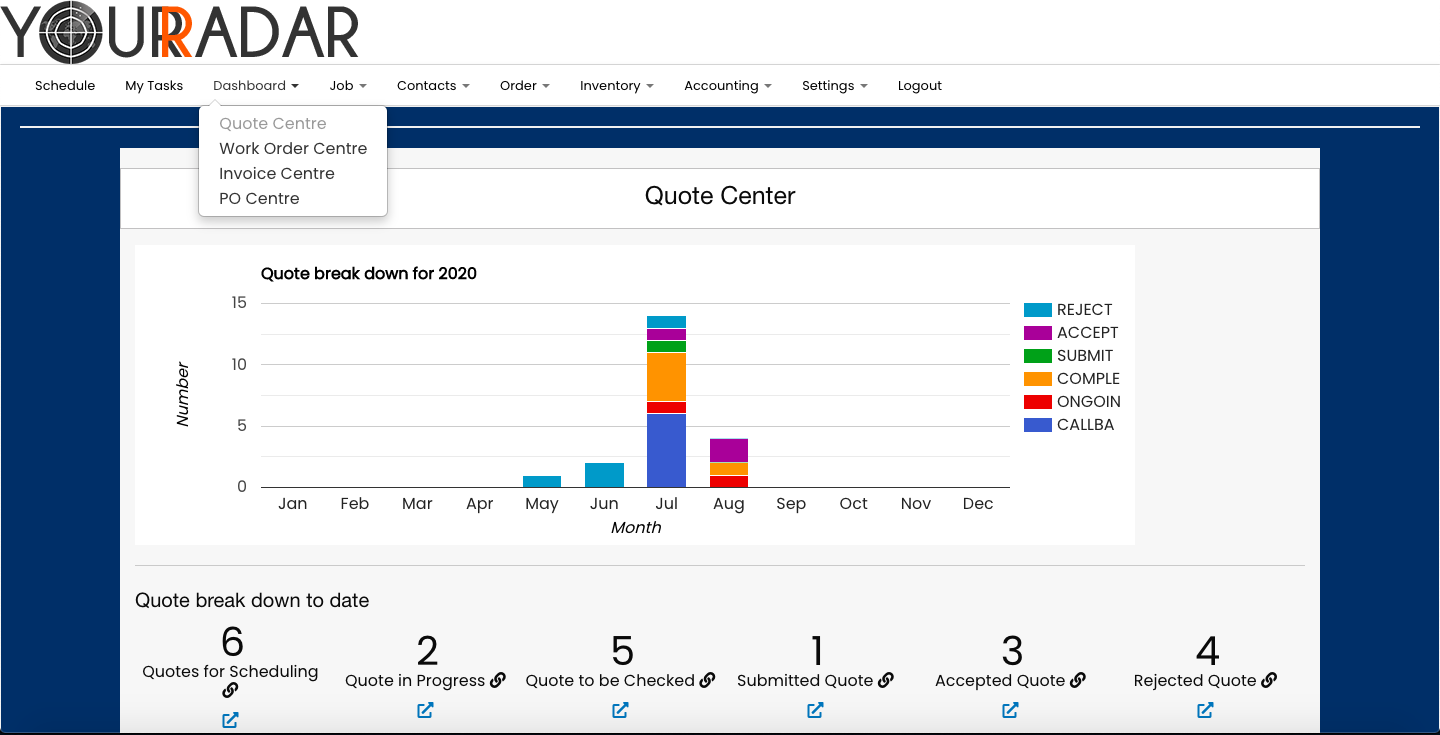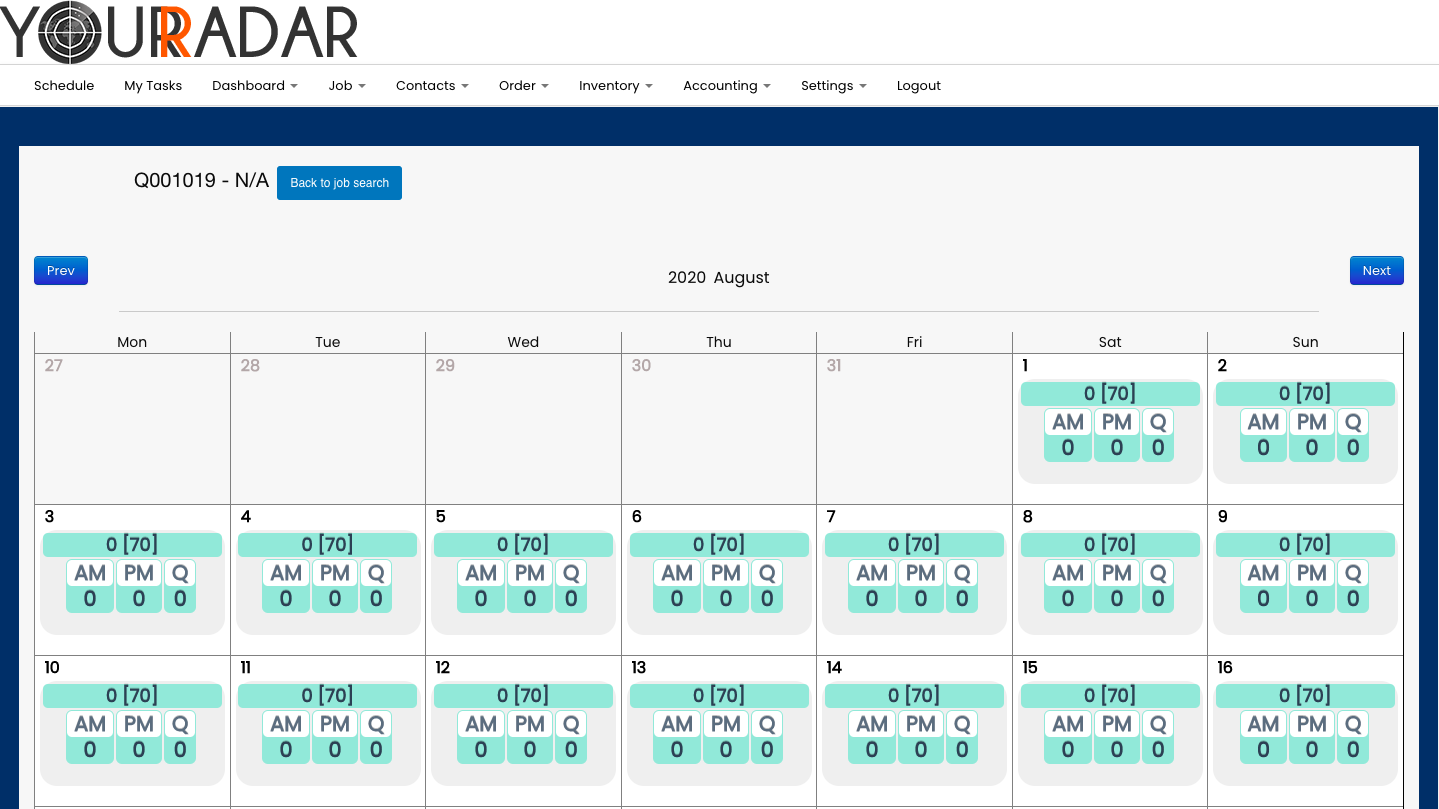 Versatile Communication Platform
Maintain customer and vendor relationships by sending personalized emails
Provide quotes, invoices and PO's as a PDF files
Swiftly send quotes and invoices to customers
Send purchase orders to vendors with minimal effort
Use the internal communication platform to immediately send work orders to technicians on the field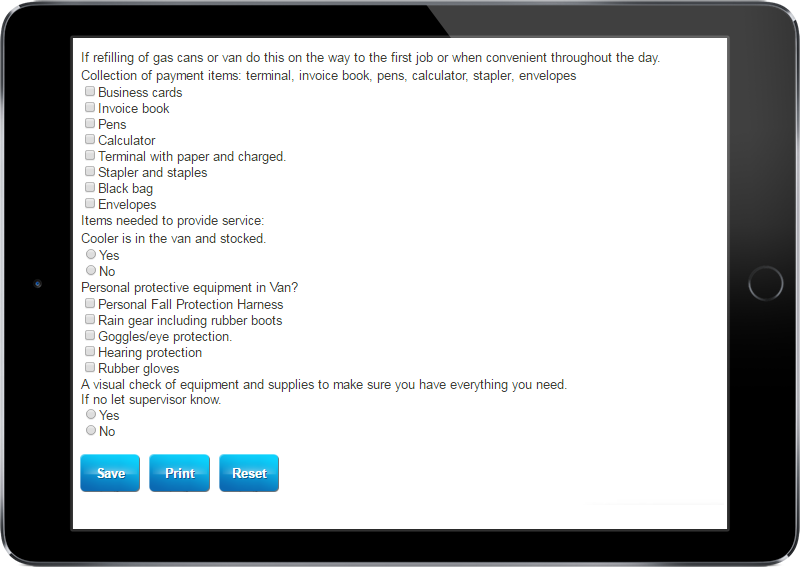 Highly Customization Product Management
Easy set-up for special pricing and discounts
Contract pricing for selected customers
Able to set-up multiple pricelists
Option for pricing method to define units of measurement
Include images for inventory items based on name or product ID
Easy Integration with an Accounting Software
Connects to most popular accounting packages
Accurate and reliable bookkeeping
Completes thorough error checks
Includes a resolution centre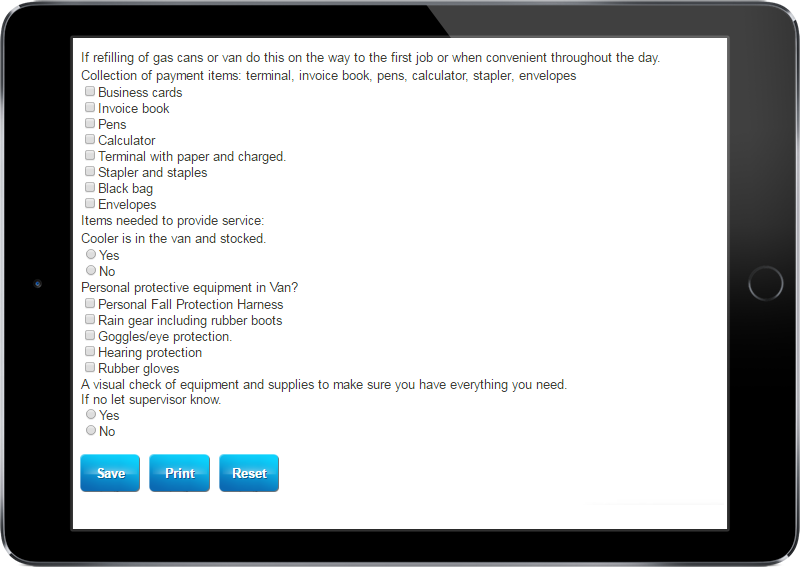 Dashboard On The Go
Able to work off-site
Web-based
Use it on Mac or Windows
Simple Mobile Time Sheet
Easy-to-use Timesheets that technicians can fill out to check in and out of each job
Gain additional billing hours
Efficient Expense Submission Sheets
Improves billing and invoicing time by one-week
Provides On-site Checklists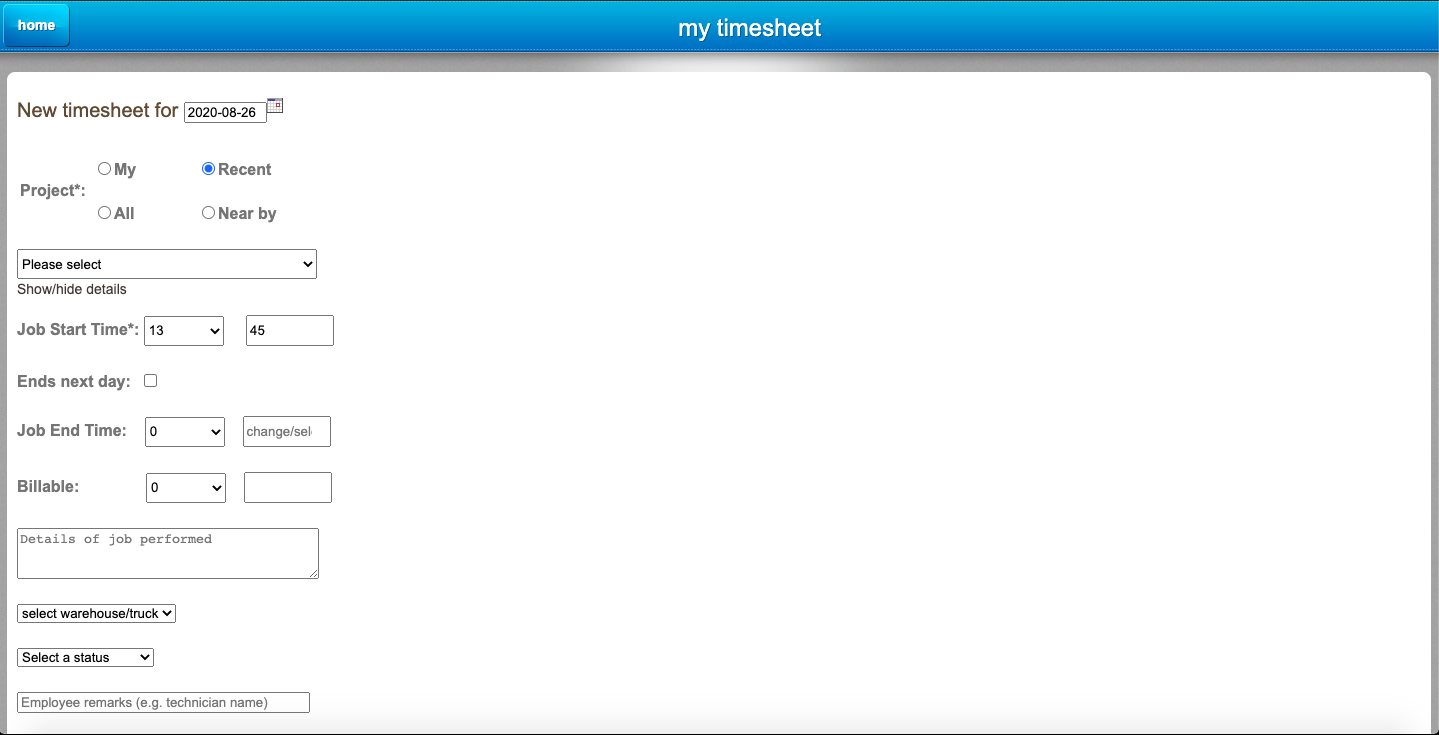 Integrated Mobile Quote and Work Order System
Dispatched jobs automatically appear on a technicians job sheet
Notification alerts are sent to let the technicians know of a new job
Improves efficiency by allowing technicians to create quotes and work orders on the field
All quotes and work orders are consistent
All team members are up to date with the current jobs
Track Inventory and Equipment
Tracks mobile inventory
Tracks on-site equipment
Demonstrates in real-time, current inventory
Monitors equipment and inventory for restocking
Add parts or equipment to a job site and search for history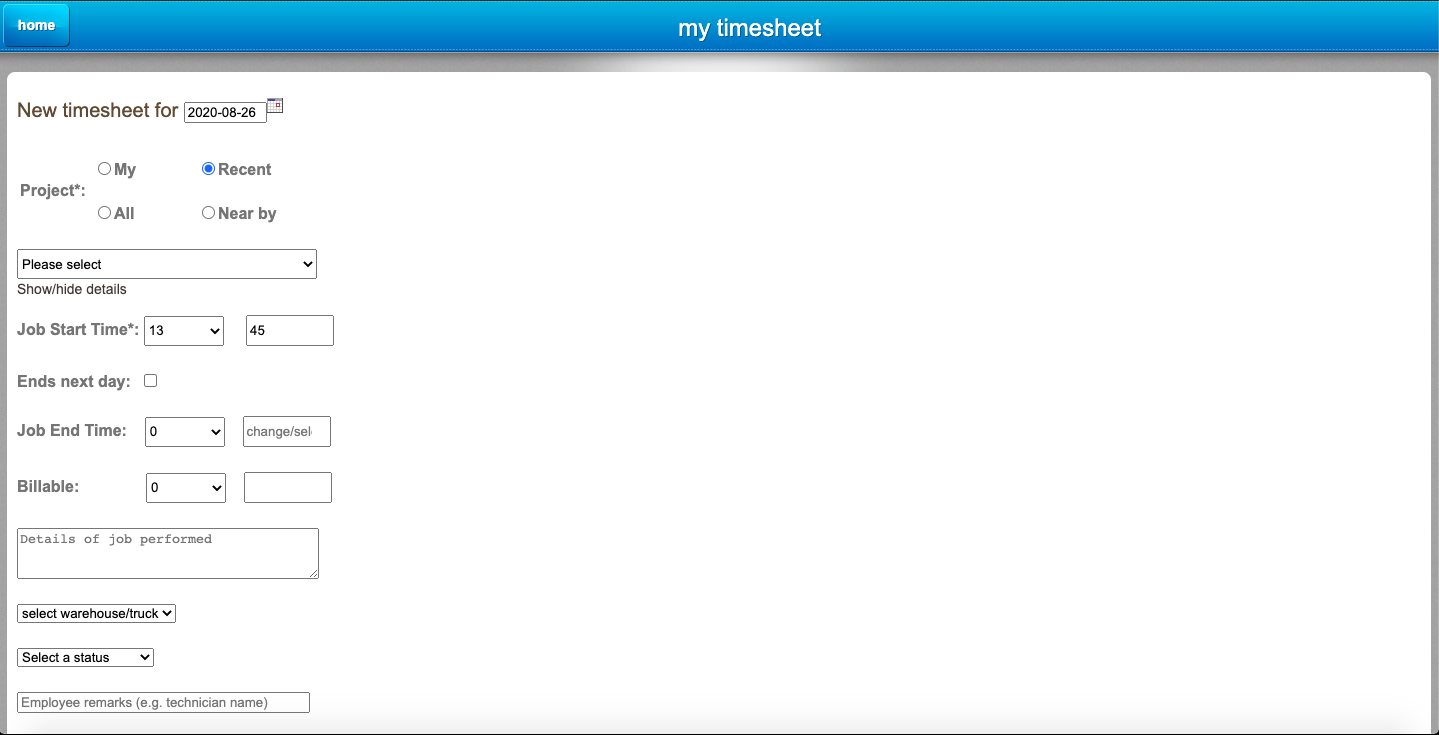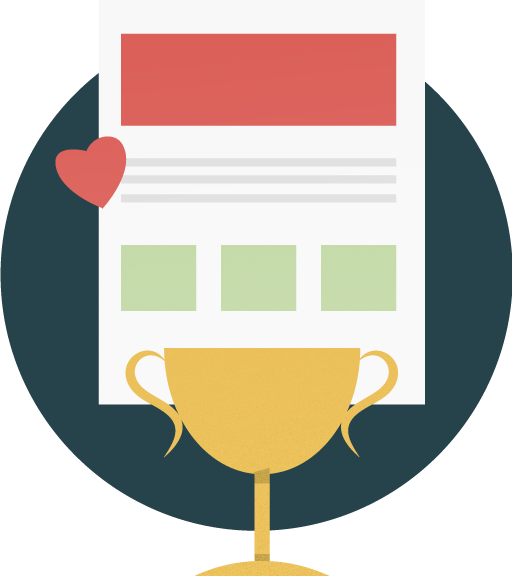 Bonus features:
Vacation Management
Request hours
Inventory management
Expense reporting
Attach Documents
Generate quotes
Adjust currency
Track assets
Want to learn more? Check out these videos:
Glass Industry Walkthrough
HVAC Industry Walkthrough